World News
International Charlemagne Prize awarded to Zelensky and the people of Ukraine
This year Zelensky and the people of Ukraine were deemed worthy of the International Charlemagne Award, which has been given since 1950 to those who contribute to "the reunification of Europe and the protection and spread of European values, democracy and human rights".
At the ceremony held in Aachen Municipality, Zelenski was presented with the award by Jürgen Linden, Chairman of the Charlemagne Prize Commission, and Sibylle Keupen, Mayor of Aachen.
Linden said that the International Charlemagne Prize was awarded to Zelensky and the people of Ukraine for their brave struggle in defense of freedom, democracy and European values.
Zelenski, after receiving the International Charlemagne Award, stated that he was very honored to receive the award, and stated that he represented the Ukrainians who fight for freedom and the values ​​of Europe every day.
Emphasizing that every Ukrainian is a hero and they deserve to stand here, Zelenski said that the peace that Ukraine wants can be won with only one victory in the current war.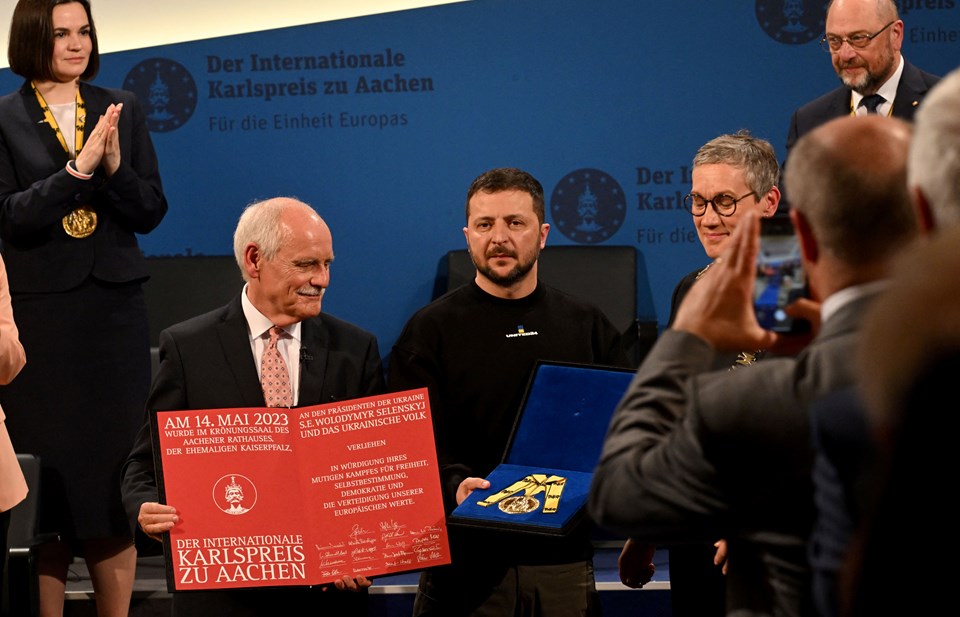 "WE WANT TO LEAVE PEACE AS A HERITAGE"
Zelenski, arguing that the war in Ukraine will also determine the fate of Europe, noted that Russia is in a position to commit all kinds of cruelty and unscrupulousness, but they are not afraid of it.
Expressing that they want to leave peace to children, Zelenski said, "We do not want another alternative. In order to leave peace as a legacy, we must reach the day when we can say that we have finished this war with our joint victory," he said. used the phrases.
NAMED SCHOLZ AS THE DEFENSE OF EUROPE
Zelenski, arguing that Ukraine will protect Europe with the victory it will achieve, said, "Russia has entered the path of evil of its own will. We must have the will to block this path. We will fulfill this task, but together." he said.
Describing German Chancellor Olaf Scholz as "the defender of Europe", Volodymyr Zelenski said, "When you saw the turning point, you started acting like a defender of Europe. Europe will always be grateful to you and the German government." said.
Zelenski thanked Germany for its support to Ukraine.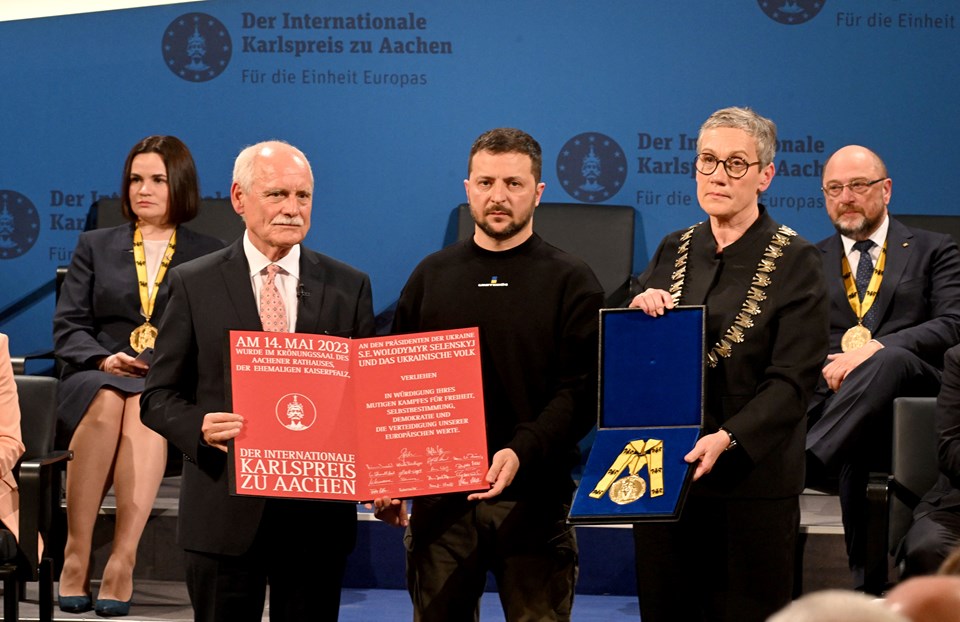 Stating that a European Union (EU) without Ukraine would not be complete, Zelenski also reiterated that his country should be included in NATO.
German Chancellor Olaf Scholz also stated that the Ukrainian people owed a lot to Volodymyr Zelenski.
Stating that Russia's war against Ukraine is a war against everything Europe stands for, Scholz said, "This year, the Charlemagne Award is given to a president and his people for the first time. This is an extraordinary decision. They are defending against it with tremendous force." said.
Noting that the war waged by Russia brought the EU and Ukraine very close to each other, Scholz emphasized that they stand by Ukraine in unity and solidarity.
Prime Minister Scholz stated that Ukraine defends the values ​​of Europe and said, "Ukraine can count on our full support." said.
Arguing that Russians and Ukrainians are definitely not one people, as Russian President Vladimir Putin claimed in his imperialist and colonial dreams, Scholz said, "The Ukrainian nation has a unique long history, an incredibly diverse culture, traditions and identity. Since then, independent Ukraine has insisted on the freedom to chart its own path." used the phrases.
"ZELENSKI IS A ROLE MODEL FOR EVERY POLITICIAN"
Polish Prime Minister Mateusz Morawiecki, who attended the award ceremony, praised Ukrainian President Zelenski as "a defender of European values".
In his speech, Morawiecki stated that Zelenski is a "great European leader", "a hero" and "an outstanding statesman" of the 21st century, "Volodimir Zelenski is a role model for every politician." said.
Mateusz Morawiecki also noted that Russia's barbaric attacks are "against the free Europe defended by Ukraine".
European Commission President Ursula von der Leyen appreciated Zelenski and the Ukrainian people and said, "They are literally fighting for freedom, humanity and peace. Ukrainians are securing their future and our children's future with their blood and soul." he finished.