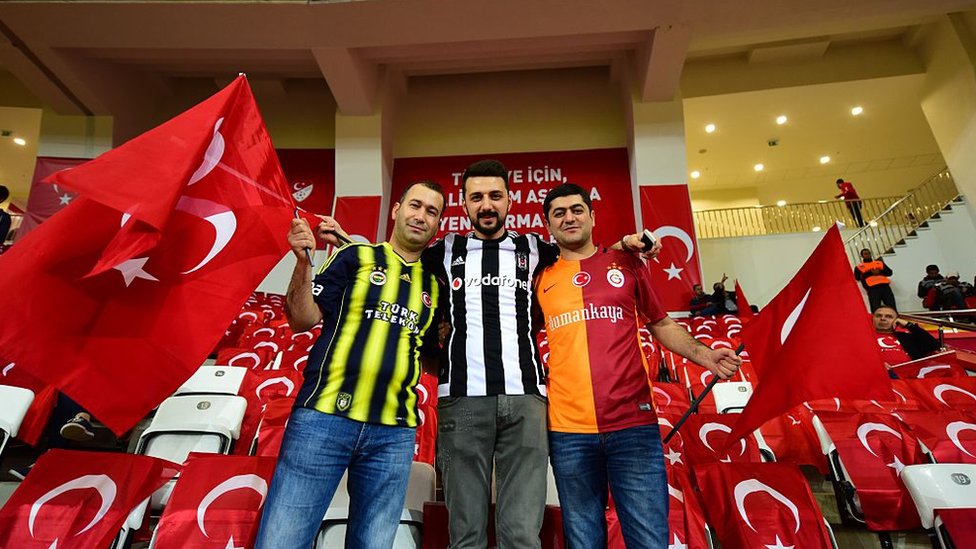 The indebtedness and financial suffering of football clubs in Turkey has turned into a knot that could not be analyzed in recent years.
In this story, which is now familiar to everyone, the extent of indebtedness has doubled with the currency crisis in recent years.
A new sports law was put into effect in order to prevent the financial problems that the clubs are in.
With the new sports article, it is aimed to transform the clubs into joint stock companies and transfer the responsibility of debts to the administrations, thus preventing the financial suffering of the clubs.
But according to experts, this law is not enough to end the indebtedness of the clubs.
It is said that the law, which is accused of trying to save the day instead of solving the structural problems in Turkish football, cannot be a solution to the debt problem of the clubs.
Sports economist Tuğrul Akşar states that the law tries to deal with financial burdens only on a criminal basis and does not offer a comprehensive analysis that can increase the income of Turkish sports.
Altuğ Özaslan, the CEO of the asset management company Fortuna Capital, states that clubs cannot roll over their debts unless they can generate cash, but neither the Turkish economy nor the football economy has the capacity to generate such income.
Didem Dilmen, liaison manager and sports writer for Comparisonator, a football startup, comments, "The law may be very nicely written, but I don't see an explanation for how it will be implemented and how clubs will be transformed."
According to Dilmen, it is not clear how all football clubs, which have different structures such as associations or public companies, will be transformed into a joint stock company.
HOW DID CLUBS FALL INTO THIS HUGE DEBT?
One of the biggest financial problems of football clubs is that their expenses are in Euros, but their benefits are in Turkish Lira.
That's why the currency crisis in 2018 and last year multiplied the indebtedness of the clubs.
According to Altuğ Özaslan, CEO of Fortuna Capital, it is impossible to think of football clubs' indebtedness differently from Turkish economy:
"Of course, the flaws in the past have grown like snowballs , but the current situation in TL loss of cost, in three years created as much debt as Turkish football has created in the last 20 years.
While the prices, such as salaries, bonuses and management, that the clubs have to pay due to their foreign players, increased due to the exchange rate, the income of football clubs did not increase at the same rate.
Özaslan adds that the prices given to both domestic and foreign players in Turkey are way above their worth:
"While a player in Spain receives an annual salary of roughly 2 million euros, 1 million of this is paid in taxes. He pays, but when we bring this player to Turkey, we give this player three million euros a year, and we undertake the tax on it.
"After adding the over-valued testimonial and managerial fees, you see why Turkish football has become financially bankrupt. "
According to Özaslan, these high prices arise when club managers make decisions that they
THE EFFECT OF POLITICS ON FOOTBALL
Sports economist Tuğrul Akşar stated that in the last 20 years, the monetary expansion in Turkish sports has increased rapidly, but there is no administration that can manage this expansion. He states that his team is not formed.
Akşar states that while the expenses of the clubs increase, their incomes decrease, so they have
According to Akşar, who said, "Today, we are faced with a league structure that lacks equity, cannot perform in a sporting sense, has lost one third of its income due to the pandemic, has fallen behind in ratings, and has regressed in UEFA and FIFA rankings," said Akşar. the desire to increase the influence of politics on football.
Akşar is of the opinion that with the new sports law, the dominance of politics over football will be strengthened:
"When clubs lose their financial stability, they become more open to politics. This allows politics to increase its influence on sports and football."
Emphasizing that the influence of politics on football in Europe is at the lowest level, Akşar also emphasizes that the clubs are not in an accountable structure and are not properly supervised.
THE TOTAL DEBT OF FOUR TEAM REACHED 17 BILLION LIRA
Let's take a look at the debt of football clubs.
Besiktas, Fenerbahce, Galatasaray and Trabzonspor, which are described as the four greats of Turkish football, lost 1 billion 121 million liras in nine months.
Clubs that submit their nine-month balance sheets for the period covering 1 June 2021 and 28 February 2022 to the Public Disclosure Platform (KAP) owe at least four times their annual income.
According to the notifications made to the Public Disclosure Platform, the total debts of the clubs are increasing day by day.
The total debt of these four groups has reached 17 billion TL.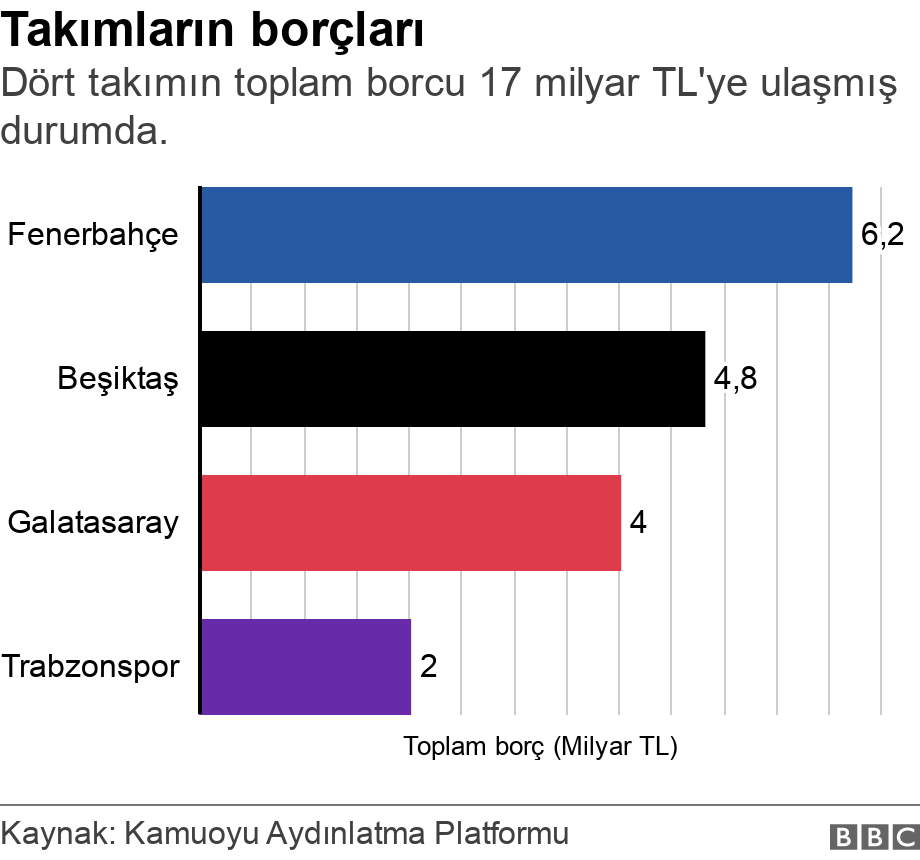 "Football players are bought with an excessive budget"
The revenues of football clubs consist of matchday revenues, broadcasting revenues and commercial revenues.
Commercial incomes also consist of commercial activities such as sponsorship, sales of works and stadium types.
Broadcasting tender for the upcoming period in Turkey has not been finalized yet.
According to experts, even this is a situation that alone puts football clubs into problems in terms of income.
But, according to sports writer Didem Dilmen, clubs can actually generate the most revenue from the sale of football players:
"You buy football players who won't make that much money by allocating an excessive budget, then when you can't sell them, always shop with a credit card.
"For example, you buy Falcao, but you sell this player without gaining anything, and you see that the player has not brought any sporting success."
When Galatasaray bought Radamel Falcao for three years in 2019, it was announced that the player would be paid 5 million euros annually
The player was transferred to Spain's Rayo Vallecano squad last year
Announcing that the contract was mutually terminated, Galatasaray For this he paid Falcao 3 million euros
Rayo Vallecano's annual net price was 2 million euros. took over the UK part.
WHAT TO DO NEXT? (980) 0705)
According to sports writer Didem Dilmen, football clubs need to be transformed into commercial companies managed by professionals.
However, for this, the transition process must be managed properly and qualified professionals must be trained to cope with this task.
Dilmen emphasizes that behind the world's most successful football clubs there is a huge financial support, but there is no such opportunity in Turkey.
On the other hand, breakthroughs in the digital realm such as NFT (non-fungible token), fan coin and metaverse have also started to create new sources of income for clubs in the rest of the world.
However, according to Dilmen, there is no club in Turkey that can be the pioneer of this; In general, examples in the world are imitated.
Sports economist Tuğrul Akşar emphasizes that the side of sports and football in Europe and the world should be analyzed properly and a structuring should be made accordingly.
Akşar comments, "These are professional football clubs. it is enough, to expect a support from the public when you waste it does not comply with social justice and public conscience, it is not in accordance with the ethics of sports."